What's Happening With The Buckeyes?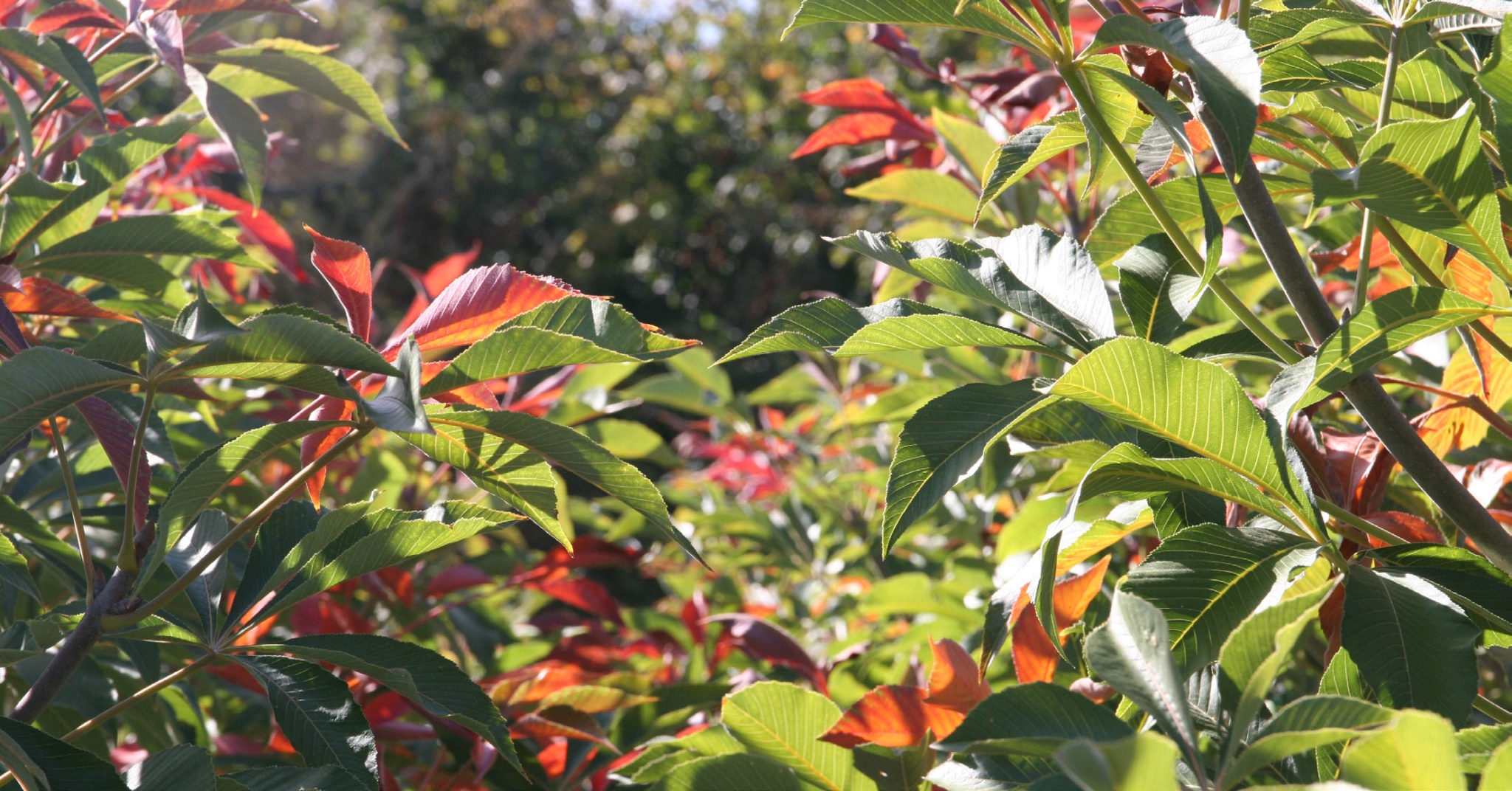 No, we're not talking about The Ohio State University football team; most of us here are hapless OSU Beaver fans, along with a smattering of Duck and Auburn fans. What we are referring to, of course, is the dynamic and interesting world of Aesculus cultivars, especially those in the buckeye family, derived from Aesculus glabra and octandra backgrounds.
One of the brightest new kids on the block is Early Glow™ Buckeye (Aesculus glabra 'J.N. Select'). A Mike Yanny/Chicagoland Grows® introduction, Early Glow™ displays many desirable attributes including superior resistance to leaf blotch and leaf scorch, little to no seed production and fiery red to orange-red fall color in mid-September. One can expect this upright growing Zone 4 selection to reach 30-35 ft. at maturity.
Early Glow™ Flower

Early Glow™ Habit

Early Glow™ Fall color
One of the great growing challenges with Aesculus selections is dictated by the four year production cycle in our fields, which follows two years in the propagation department to produce a field ready grafted liner. It is hard to be nimble when Father Time dictates how fast you can accomplish change.
We have several promising new cultivars in trial which will likely be exciting additions to our product in the future, so stay tuned as these are unveiled in the years to come.
Early Glow™ has already developed a keen following, a consequence of which being in demand already outstrips supply. Success often brings its own set of challenges, but we are working to bump production numbers as quickly as our Aesculus-imposed production cycle will allow. In the meantime there are many Aesculus hippocastanum cultivars available and worth considering, including Baumannii, Briotii, and Fort McNair. These are the old standards most will be familiar with and are well described in our catalog.
Perhaps the best substitute for those stymied in their quest for Early Glow™ may be Aesculus x arnoldiana Autumn Splendor. This beautiful tree has been in production at Carlton for over twenty years now, but still feels like something of a new kid on the block. A complex hybrid with Aesculus glabra, flava and pavia as parents, this Zone 4 selection has dark, shiny green scorch resistant foliage that gives way to beautiful maroon-red fall color. Moderate growth rate will yield a tree that finishes at 30-35 ft. high and 20-30 ft. wide. The yellow-red flowers displayed in the spring are very delicately showy; they will lead to some fruit production which, unlike horsechestnuts, is strongly favored by wildlife, perhaps making for easier cleanup. Credit for this selection belongs to the University of Minnesota Landscape Arboretum.
Autumn Splendor Flower

Autumn Splendor Fall color
SAFETY AT THE DOCK
When shipping nursery stock to our customers, we typically load the plants into enclosed refrigerated trailers out of our loading dock. The loading dock has six overhead dock doors with vertical side cushions, a top curtain and steel and rubber dock bumpers. This allows the trailer to rest against the dock for loading. However, not all truck/trailers are exactly the same height. With the trailer resting against the heavy duty dock bumpers, there could be up to 12" of gap between the trailer and concrete dock. To span across this gap from dock to trailer, we utilize aluminum dock ramps. These dock ramps are set in place as soon as the trailer is parked to allow for safe travel into the trailer. These ramps compensate for the gap and variations in the height of the trailers.
Another safety feature is securing the trailer from moving away from the dock during loading. In most states, including Oregon, wheel chocks are required by OSHA regulation when powered industrial equipment like forklifts are boarding trailers. Similarly, 'nose jacks' are also required when a semitrailer not connected to a tractor/truck is being loaded by powered industrial equipment. A nose jack placed under the hitch pin prevents tipping of the trailer.
We have chosen to chock all trailers regardless of whether they are connected or not and being loaded by hand or by forklift. The chock blocks are wedged in front of the rear tires to guard against movement for any reason.
Our chock blocks were constructed in our shop. They consist of a standard heavy rubber pyramid shaped block, approximately 10" wide. We formed an upright handle 30" high and 10" wide, using 1" pipe. The handles make it easier to set and remove the chocks. Handles are painted bright yellow with a small sign for high visibility. The handles also make them easily seen in the mirrors of the truck to remind the driver the blocks are still in place.
SHIPPING BAREROOT PLANTS
Bareroot is one of the most economical nursery products to ship. It is lighter than most other nursery products and much more can be packed into a truck resulting in considerably less freight per plant. Freight costs can vary depending on location and time of year. Prices are typically a little less early in the year and may rise in March and April when demand and competition for trucks increases.
The trucks are billed by mile and per drop. Freight costs are allocated to each order based on footage and location.
Over the past few years there has been a decrease in truck availability. Building good relationships with brokers is important. They have been able to cover our demands with good equipment and reliable drivers for reasonable rates.
Communication is key. Sales people contact customers two weeks before scheduled ship dates to check contact information and to make sure they're ready to receive the material. For customers picking up their orders a minimum of five days notice is typically requested before the material is shipped. When the truck leaves the nursery customers are called with an estimated time of arrival. The drivers are asked to call each customer 24 hours in advance so a crew can be there to unload the truck when they arrive. Delays can cost time and money for both drivers and the customers. There are many issues that can affect the delivery schedule, such as weather or mechanical difficulties.
Before plants are loaded onto a truck, the vehicle bed is inspected for defects that could pose problems during transport. The grooved floor in the refrigerated cargo unit will be covered with ¼" wax covered cardboard or wood paneling. The floor covering will avert frozen pockets by keeping the floor grooves free of debris material which hampers maximum air circulation. The floor is then layered with straw or cedar shavings for holding moisture. The layer of packing material is copiously wetted with water prior to loading plants. Each order on the truck is clearly separated with plastic and marked with signs and tags. We ask that each customer remove their portion of the protective material with their order. The driver
has the truck manifest which provides a list of what is on the load for checking the order as it is unloaded.
Shipping is the most important and yet challenging aspects of our business. By taking the necessary steps and precautions and paying attention to the details, your plant material will consistently be received in a timely manner and in excellent condition.
"REAL TIME" TEMPERATURE DEVICE
Temperature devices record the temperature inside the refrigerated semi-trucks.
If the devices are returned, a report showing time and temperature for the duration of the trip is sent to us. These reports are a great help when analyzing claims to determine if the temperature during transport was a factor. However, we discovered that only 40-60% of the devices were being returned so all the data was lost.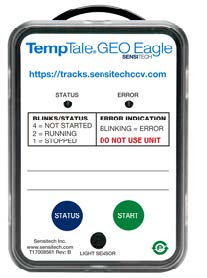 We discovered there was a "real time" device and went to work researching that option and found our answer in a GEO Eagle temperature device available from Sensitech. We purchased a few "17 day" GEO Eagles on a trial basis and were excited with the results. The Eagles run off cell sites and are placed in the back of the truck near the ceiling to get the best service. The device is switched on and the unit number is recorded on a memorandum provided by Sensitech before putting it in the truck. We can then log onto the website and view the temperature and location of the load. Because these run off of cell sites there can be delays but we have found them very useful to get the approximate location of the drivers without having to call the brokers or trucking firms.
A high and low temperature monitor can be set through Sensitech. If the temperature falls outside of the required range, a warning comes up that shows the degree and how long it has been running at that temperature. We used this several times last year to call the driver or the broker and ask them to check it, saving the load from damaging temperatures, either too hot or too cold.
The GEO Eagles last 17 days after they're switched on and a longer lasting version can be purchased for international loads.
At a cost of $10 more than the old version and a 100% return of data (unless we forget to switch them on!) these are well worth the investment.