Newly introduced Pop Star® Hydrangea awarded at AmericanHort Cultivate'22
St. Paul, MN (July 26, 2022) – The Bailey team was thrilled to accept the Retailers' Choice Award for Pop Star® Hydrangea at AmericanHort Cultivate'22. Sponsored by The Garden Center Group and AmericanHort, the Retailers' Choice Awards are peer-determined and given to unique and innovative products that have the potential to make a big impact at garden center retail stores.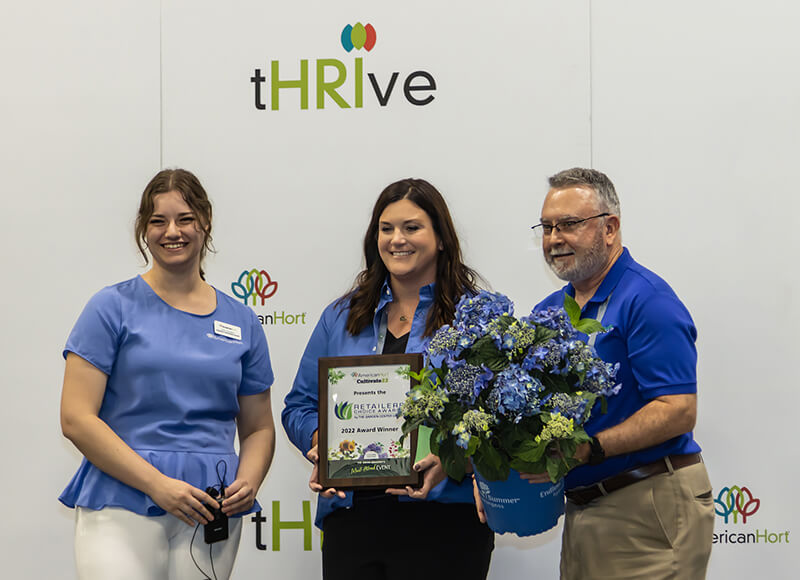 "Pop Star® is a truly unique addition to the Endless Summer® collection," shares Brand & Business Development Manager Layci Gragnani who was on hand to accept the award. "It's a heavy rebloomer, genetically compact, easy for anyone to grow, and versatile in an outdoor space. This variety looks great at retail and is an outstanding performer for the end consumer, so we are very happy that Pop Star® was recognized by this prestigious award this year."
Pop Star® is the newest superstar in the Endless Summer® Hydrangeas collection. Joining an already stellar collection of bigleaf hydrangeas, Pop Star® checks the boxes on what growers, retailers, and consumers want and need from their bigleaf hydrangeas. With super-fast rebloom, Pop Star® can be staged in production for quick retail sales and is sure to shine in the garden throughout the season. Growing to a maximum height and width of 36", Pop Star® is truly compact and has strong stems that hold the gorgeous blooms upright. Thanks to its size and consistent hardiness, with maximum flower power from Zone 4-9, Pop Star® thrives whether planted in the landscape, small garden space, or in a decorative container. To top it off, Pop Star® is easy to grow, meaning both growers and home gardeners can count on having success.
Pop Star® is currently available for industry-wide distribution and retail sales beginning January 1, 2023. For more information and details on purchasing Pop Star® contact your Bailey Sales Representative or approved regional licensee available at https://www.baileynurseries.com/brands/endless-summer/.
###