THINKING IN THE BOX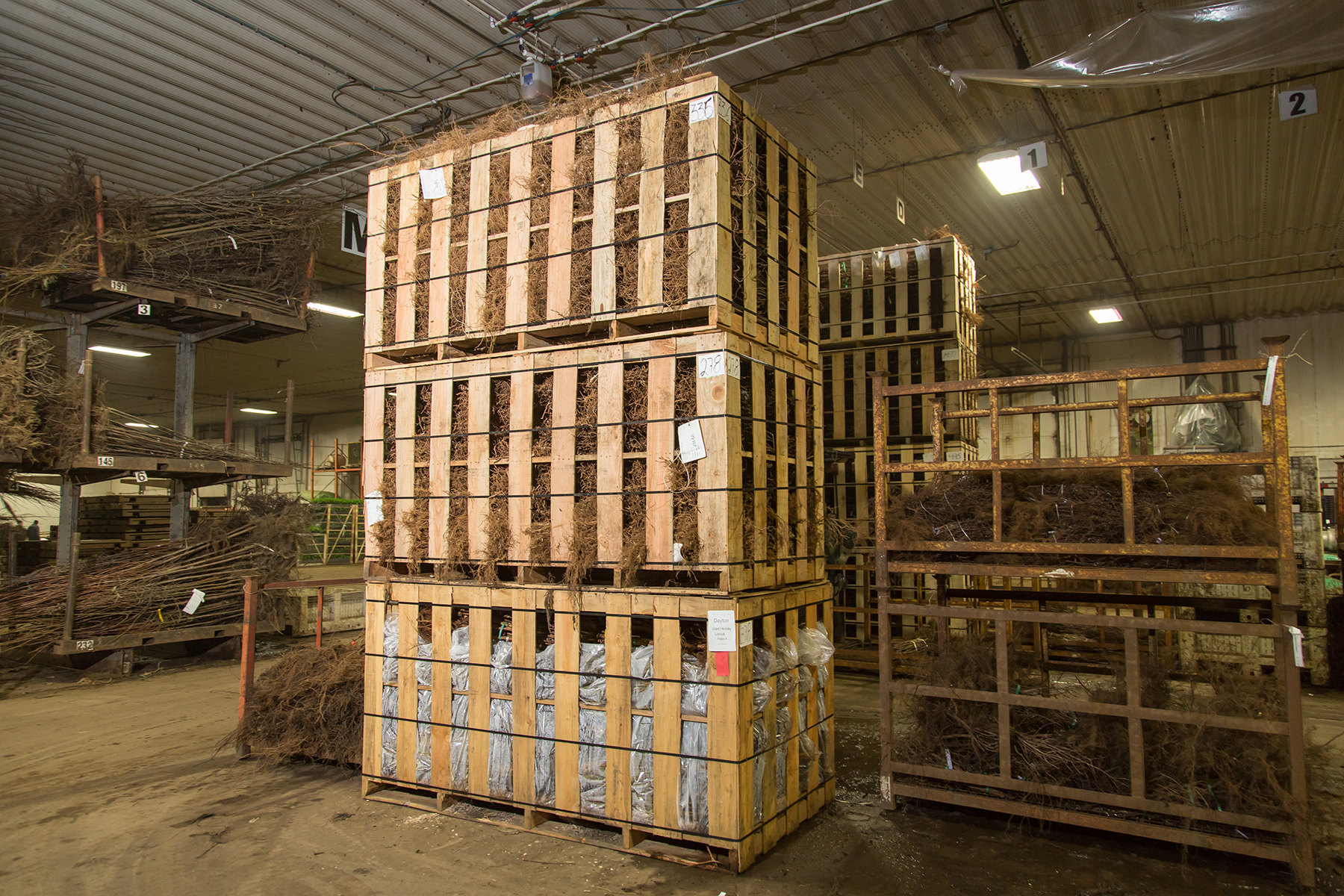 The process of manually stacking bareroot trees and shrubs in trucks for shipping each spring has not changed much over the years. Each bundle is handled multiple times in the process of loading and unloading, requiring significant amounts of labor. While there have been small improvements in the process, such as utilizing conveyor belts and assembly lines, the tradition has not improved significantly overall.
Tradition is something that can be hard to overcome, as we all become accustomed to a process and accept it. Inspired by the change in the way container plants were being shipped (from a California stack to racks),
employees in our bareroot shipping department asked a simple question: "what if?". Crews were already utilizing metal and plastic crates during harvest and cold storage, so what if they began to use wooden crates
or cardboard boxes to send customers their orders? Would loading and unloading become more efficient? What about moisture content and breakage?
After a number of tests, it was determined that crates could work very well for shrubs and a number of small trees. Moving forward customers ordering from Newport, MN and Dayton, OR will start seeing boxes and
crates when their orders arrive this spring.
Improving the process for trees is still being vetted and trialed with an open mind, because you never know when inspiration may strike.
SURVEY SAYS
Your business and satisfaction are important to us, so we've made it easy to provide online feedback on the products and services you receive. Just click the survey link in your e-notification email or type the web address listed on your shipping document into your browser!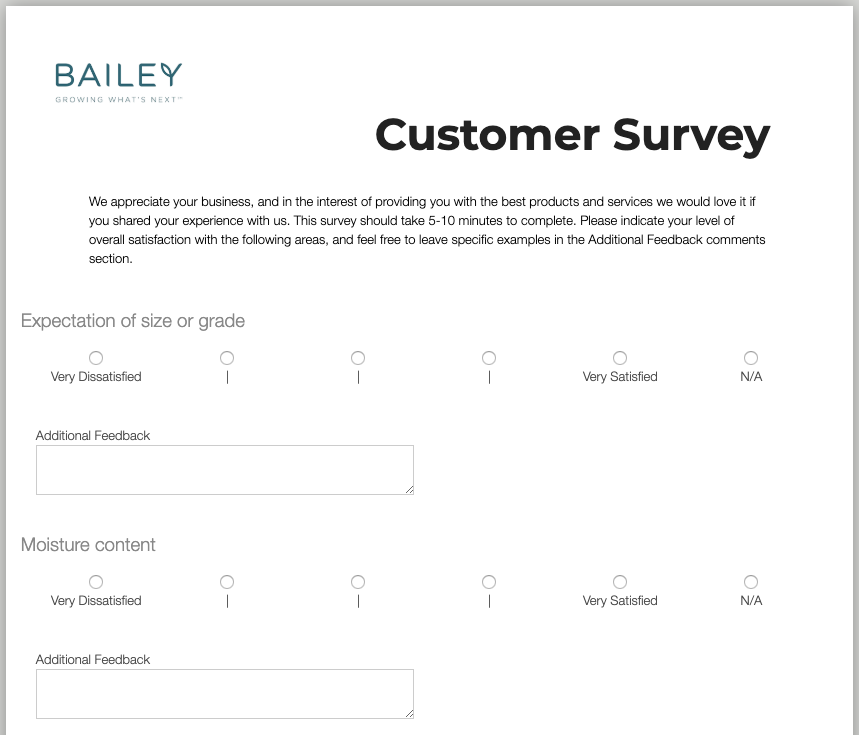 Not signed up for delivery e-notifications? Simply contact your Inside Sales Representative to get set up today!
MATADOR™ MAPLE

Move over Autumn Blaze and Sienna Glen, there's a better maple in town that is ready to lead the market: First Editions® Matador™ Maple (Acer x freemanii 'Bailston'). With a lot of competition in the shade tree market – especially within the A. freemanii species – there had to be a lot of good reasons for the First Editions® brand to include it in their tree and shrub collection.
Discovered in 1997 by Kevin Johnston, General Manager of the Midwest Division, the intense color that Matador displayed stood out enough to catch his attention. This says a lot with the amount of trees that Kevin has seen during his tenure at Bailey.
Matador begins gaining its fall color later in the season and holds its leaves longer than other varieties. As the season progresses, so do the leaves from orange to deep red. The leaves darken more than Autumn Blaze® and more consistently than Sienna Glen®.
While color alone may be enough to make other maples stand out in the market, additional important characteristics make Matador a winner in the ring. With a strong central leader, upright form, and symmetrical branching, this shade tree's habit is superior both in the landscape and in production.
Matador is available in a range of liner sizes, from small 3' whips to 1 3/4" twice-transplanted large branched trees, giving you the option to choose the right liner for your production needs.
Learn more about Matador, including additional cultural information, on the newly updated Bailey website.
A LITTLE COPPER GOES A LONG WAY
Water quality is a fundamental component of any type of greenhouse production, but it is especially important when rooting freshly propagated crops. Growers can take the utmost care to properly irrigate, adjust pH, add fertilizers, and implement timed misting applications so crops get the right amount of moisture, but no matter how much attention is paid to getting those factors right, foliar diseases are a perennial threat.
Managing common pathogens like powdery and downy mildew with chemical applications can be costly and many regulations limit where, when, and what active ingredients can be applied. To mitigate those issues,
Bailey has invested in a copper ionization system for the water supply at the propagation farm located in Cottage Grove, Minnesota.
While the use of copper to control microorganisms is an ancient technique dating back to Roman times, the technology to provide the right amount is changing. The new system provides 2ppm of copper to all water that is used for irrigation and the results have been substantial. Since installation, growers have noticed a significant decrease in the amount of disease pressure inside the greenhouses, as well a reduction in algae
growing in the lines, on the floor, and in the tanks. That reduction has led to some crops no longer needing any fungicide applications and reduced others to simple spot applications.
So, what is in it for you? Beginning with a healthier, stronger liner with a balanced root system from Bailey increases your transplanting and growing success!
Contact your sales representative for more information about our bareroot and Jumpstarts® liner options.