FULL STEAM AHEAD
22 acres of sand beds requiring sanitation between rotating crops, and a shrinking list of available chemicals was a looming issue the growers at the propagation farm in Cottage Grove, Minnesota were challenged with addressing. Should they continue to rely on chemicals that were highly regulated, with a diminishing supply, and time and labor restrictions? The decision was no – too costly and risky as a long-term plan. So, they started reviewing their possible solutions.
Solarization was an option. Anyone who's ever been in a greenhouse on a sunny day, even when it is cold outside knows how warm it can get. But alas, the weather in Minnesota isn't conducive with too many cloudy days to be consistently effective.
Sometimes the key to innovation is taking a look at what worked in the past. Steam sterilization was a tried and true method, but could the growers make the process more efficient than how they had done it in the past? After reviewing the machinery that was commercially available, they decided to partner with the fabricators on staff to create a custom system to fit Bailey's needs. The results were simple yet innovative. A Big Souix boiler is mounted on one trailer, while another trailer houses the massive insulated hose, and both can be towed by a large truck or tractor. Some think it resembles a train, and we can't disagree!
The system allows a small crew to completely sterilize a 250ft bay in a single day and that includes prep and removal of the steam blankets. With no delay waiting for chemicals to dissipate, planting crews can get to work as soon as the sand cools and the plant health team is onto the next area.
JUMPSTARTS® 5.5
BAILEY POTTED LINER INNOVATION CONTINUES AND HAS GOTTEN EVEN BIGGER!
For years now, JumpStarts® potted liners have changed the way we think about shrub production with their industry-first cell configuration that inhibits root circling in finished production and allows you to produce a consistent, high quality product on your timing.
TWICE THE SIZE
OF QUART JUMPSTARTS®, IDEAL FOR FAST FINISHING
Extended planting windows
Well-branched & well-rooted liners that are more economical than one gallon upshifts
Perfectly suited for mechanization
Easy and less expensive to ship
Best used for larger container production and crop make-up plantings
SHRUBS ON A STICK
Once a novelty, tree-form shrubs have become so popular they are almost ubiquitous in suburban landscapes. Besides the design aesthetic, the versatility of a shrub on a stick is what keeps the form from fading into a dated trend. Lot sizes are shrinking, and a large part of the population is moving into spaces with only a balcony or patio they can decorate. No longer confined to the traditional garden,
shrubs in containers are becoming just as acceptable to the modern gardener as tropicals like palms,
bananas, and mandevilla.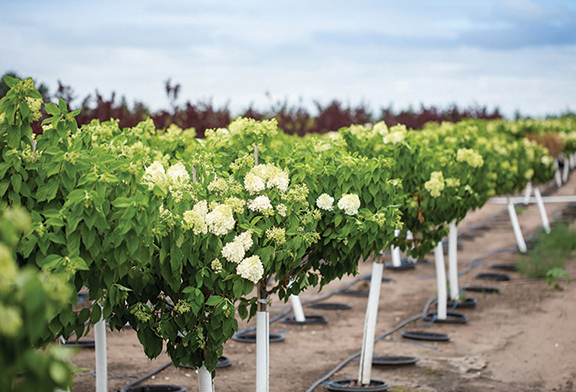 Bareroot liners are therefore in high demand, leaving many growers who already deal with the shrub form wondering if they could skip a step and produce their own. Below are a few tips gathered from the Bailey production staff to help you create strong branching and standards, full canopies, and heavy flower sets for tree form panicle hydrangeas such as First Editions® Berry White® Hydrangea.
Promote caliper by using thinner stakes, allowing more movement in the wind.
Prune tops on most varieties at least 2-3" prior to planting to promote strong branching.
Apply triple superphosphate around July 4th to promote caliper.
Cycle prune to create multiple crops with good flowers.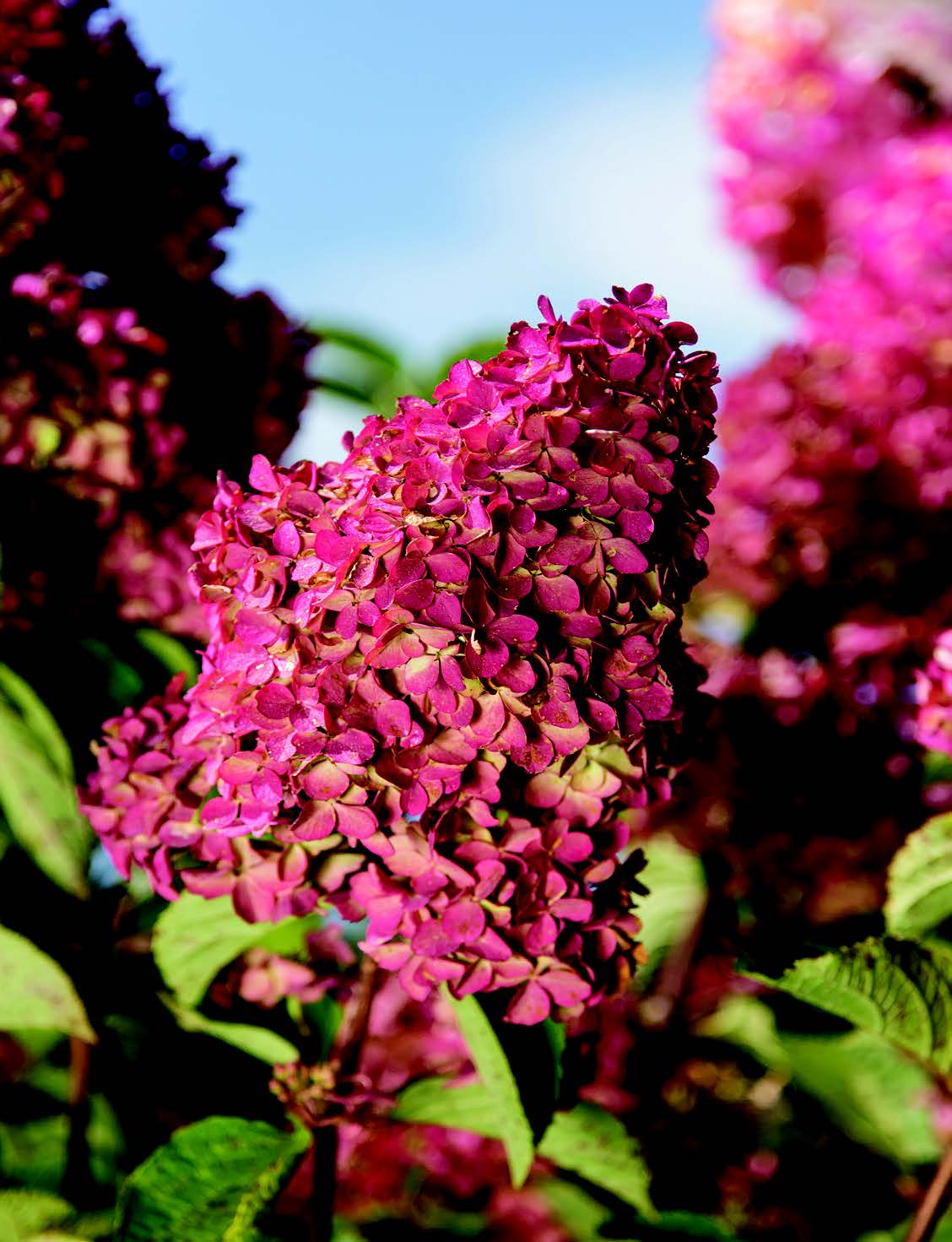 Berry White® Hydrangea – Tree Form
Hydrangea paniculata 'Renba' PP28,509
Zone: 4-8 | Height: 6-7' | Width: 4-5'
Propagation Method: Rooted Cutting
Rootstock: Own Root
More to know …
• Naturally stronger stems support the large flower
panicles and are less prone to flopping.
• Coloring begins from the bottom of each panicle
when night temperatures are at least 10 degrees
cooler than the daytime.
INTRODUCING THE 2021 BAILEY GROWER GUIDE
Whether you are new to growing trees or have a lot of experience and are simply looking for some new tips, this guide is fully of information provided by the experienced container and field growers across Bailey.